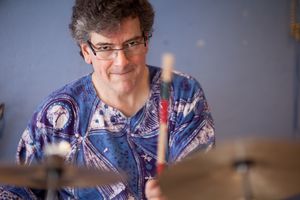 Jim Roberts is a percussionist, producer, artist, and educator who resides in Chapel Hill, NC, USA.  His skills include drum set, djembe, congas, production using Ableton Live, and Cubase and performing with groups or solo. He is also an educator, teaching drum set and percussion at Elon University as well as directing the Elon World Percussion Ensemble. Also, he teaches several classes on the music of the 1960s and 1970s, the period in which he grew up. 

As a baby, little Jimmy started his journey with rhythm by beating on the pots and pans under the sink. In grade school, he would irritate his classmates and teachers alike by beating his pencils on the desk.  In the 4th grade, he started taking piano and joined the school band within two years. He bought his first drum set at 11 and was playing in a rock trio by the time he was 14.  Some of his first professional gigs included dances, hotel lounges, a pool party, and even a strip club near a marine base.  He played in his high marching and symphonic bands.  His innate curiosity has led to a lifetime of exploration. Classical to Cuban, African to alternative, blues to Brazil, marching percussion to Mambo and jazz to funk, Jim continues to be fascinated by the ebbs and flows of time that sustain and direct life which we call rhythm.
At East Carolina University, he earned his BM in education in 1981.  He was a student of Harold Jones.  In the summers of 1980 and 1981, he performed with the Crossman Drum and Bugle Corps, performing 40 shows a summer. He went to graduate school in 1983 and graduated in 1985 with a Masters of Music in percussion performance at Northern Illinois University.  He was a primary student of Rich Holly. He also studied with Robert Chappell and was a member of the NIU Steel Band under Al O'Conner. He did an extra study in composition under Jan Bach and electronic music under Joseph Pinzarroni.  He won the NIU orchestral composition contest where he premiered Amalgam for orchestra in the spring of 1985. He also participated in the Neoteric Ensemble, an improvisational group designed to fan the flames of creativity and irreverence. After graduation, he taught high school band from 1985-1987 in Southern Nash Senior High School in Bailey, NC, and moved to Durham in the summer of 1987 to start a new career as a freelance percussionist.
To support himself, he taught and adjudicated high school drumlines across the state. He played with the North Carolina Symphony in the summer of 1987, traveling across the state for the summer series. In 1987, he began to study West African djembe, dun-dun, kalimba, congas, and shekere from Khalid Abdul N'Faly Saleem, the music director for the Chuck Davis African-American Ensemble.  Khalid gave him the tools for both a new musical life as well as spiritual inspiration.
In August of 1989, Jim performed with Khalid's Rhythms of Life Ensemble.  During that event, he met and performed with percussionist Steve Bloom and Bradley Simmons which had a profound effect on playing.  In 1989, he became a member of Mbonda Afrika, a Zairian Soukous band which he performed with till 1993.  From 1990 – 1994, Jim toured nationally with the Chuck Davis African American Ensemble. By 1991, Jim was holding weekly drum classes in his home as well as teaching workshops at the Black Mountain Festival and the Eno River Festival. In 1991, he hosted African djembe master Mor Thaim for a weekend workshop.  This workshop resulted in a study trip that year to Senegal and The Gambia which Roberts helped organize. This life-changing trip became the foundation that has led to a lifetime of study of the music of African and the African diaspora and the mixing of African influenced music with other genres such as rock, country, jazz, and more.
After the death of his father in December of 1993, Jim decided to search for a new musical direction. He moved to Washington, DC and then to Nashville, TN in November of 1995.  Within 2 months he was playing regularly at the club 3rd and Lindsey with the Wooten Brothers band and by December had landed a touring gig with country artist Billy Dean.  He toured with Dean in 1996 as the opening act for Reba McEntire tour as the group percussionist.  On this tour, he played dates at the Grand Ol' Opry, the Greensboro Coliseum, The Memphis Pyramid, and in coliseum venues from California to New England and throughout the south. 
During the summer of 1996, Roberts went to the Grassroots Festival in Ithaca where he performed with the Horse Flies. This performance was mysteriously recorded and it became a CD entitled In the Dance Tent.  No one knows the origin of the recording. From that performance, it was arranged to record a studio version the following October.  Two Traditions was released with a few added tracks in 1999 and it was the last full album that featured longtime bassist John Hayward who succumbed to cancer in 1997. It was produced by Roberts with Jeff Claus and Judy Hyman.
In 1999, Roberts attended the School of Audio Engineering (SAE) and graduated with an Audio Technology Diploma in June 2000. That year he opened Kalimba Studio where he produced and engineered a variety of musical genres. Artists included Futureman, Sons of Steel, Cady Finlayson, CapeTown, Secret Commonwealth, and more. The range of projects included country, Irish, blues, classical, songwriter demos, and experimental projects.  He recorded and performed for a variety of artists including Victor Wooten, Futureman, Shane Theriot, Theresa Andersson, Melanie, O. J. Ekemode, Jan Pulsford, The Horse Flies, John Mooney, Donna the Buffalo and The Hix.  In 2002 CapeTown, Waka Waka was recorded and released with South African singer, Paul Peterson.   This project allowed Jim to return to the afro-pop style that he loved with Mbonda Afrika from the early 1990s.  CapeTown performed live locally and regionally. During the period he also fostered an important relationship with engineer Neal Cappillino who helped mix some of his projects and became a close friend. 
In 2006, Jim returned to the triangle area and immediately picked up gigging and teaching work.  He worked for the American Dance Festival as music faculty in the summer of 2006.  After ADF, he toured to California with Footloose where he performed a week at the American Music Festival near Mendocino, Ca. and finished with a statewide tour.  Upon returning, Jim started teaching at Elon University in fall where is still on the faculty. At Elon, Jim is the director of the World Percussion Ensemble, teaches drum set/hand drums/percussion, and teaches two courses on the music of the '60s and 70s. He also performs with several bands, Footloose, The Ivory Boys, Craicdown, and Mahalo Jazz. In October of 2018, he completed an odyssey project called The Tao of Time, which took 10 years to complete. It is his most comprehensive work to date. It is a journey through time, past and future, real and imagined.